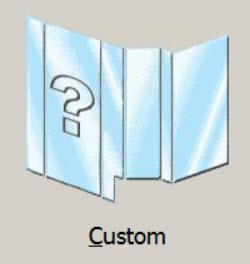 Heavy glass shower doors, or custom glass enclosures, add refined luxury to any bathroom. When going custom, you have nearly limitless possibilities for your shower or bathtub enclosure. Your custom heavy glass doors should be as unique as your family and it's needs.
Custom frameless options are visually appealing.  Heavy glass doors leave excessive metal hardware and framing out of the equation.  This allows them to blend in more seamlessly with the rest of their surroundings.  Cleaning is also a breeze,  since there are no grooves where mold and dirt can develop.
Custom glass doors add function, luxury, and look amazing! Get Inspired – visit our Shower Door Gallery page.
---
So Many Options …
ProLine Custom
The Alumax Heavy Glass System provides for an almost infinite variety of custom shower door configurations. Using Glass to Wall hinges single door installations are possible. Additional hinge styles, clips, channels, and poly-carbonate seals allow door configurations with side panels, buttress panels, and return panels in almost any combination to fit your needs.
Frameless Enclosures
Custom frameless heavy glass doors are the high-end choice of enclosures for your tub or shower.  Like all enclosures using heavy 3/8″ glass, they create an atmosphere of luxury and elegance.  They're minimal and modern. Additionally, they're also very easy to clean since they need minimal metal support, such as a header system or channel. That being said, frameless shower doors can have metal header support atop the units, which is why the terminology can be confusing. Even with a metal header, these systems are still "frameless" because there is no metal between the panels or doors. Instead, frameless units use low-profile metal channel or clips to support the glass.
Nearly Limitless Configurations
With so many options, your Custom Heavy Glass Shower Door will match the beauty of your bathroom.
With Merrell Shower Doors, customer service is always our top priority. Therefore, our hope is that you will feel confident in our ability to meet your expectations. When you're ready for your new shower door, call Merrell!
Call today, we can give you a free estimate over the phone (443) 291-7450!