When thinking about going Frameless, it's essential to know your options.
There is not just one style of shower door when you're thinking about going frameless. Some options include traditional enclosures with a frame and the somewhat newer semi-frameless enclosures. However, Frameless glass enclosures offer a variety of custom options, configurations and are visually appealing. Since most frameless options are custom, you aren't limited to mass-produced shower doors. This customization adds flexibility to your project and is an essential factor in purchasing a frameless shower door.
Less Metal
Homeowners thinking about going frameless may consider the limited amount of hardware and framing a major benefit. Less metal means consequently, there is less metal to corrode, resulting in a long-lasting, beautiful shower door and bathroom! Additionally, less metal allows them to blend in more seamlessly with the rest of their surroundings. Cleaning is also a breeze since there are no grooves where mold and dirt can develop.
Heavy Glass
3/8-Inch Heavy Shower Glass
3/8″ glass is the thinnest unit used for a frameless shower. It helps assure sound, quality construction. It's also more budget-friendly than half-inch glass.
1/2-Inch Heavy Shower Glass
Alternatively, 1/2″ thick glass offers the most structural integrity and is typically for larger shower openings. It's the same kind of glass used for storefronts. It not only looks more impressive but also has a more substantial feel.
Customization
If you're thinking about going frameless, the layout of your shower is important. Look at our standard configurations to get an idea for yours.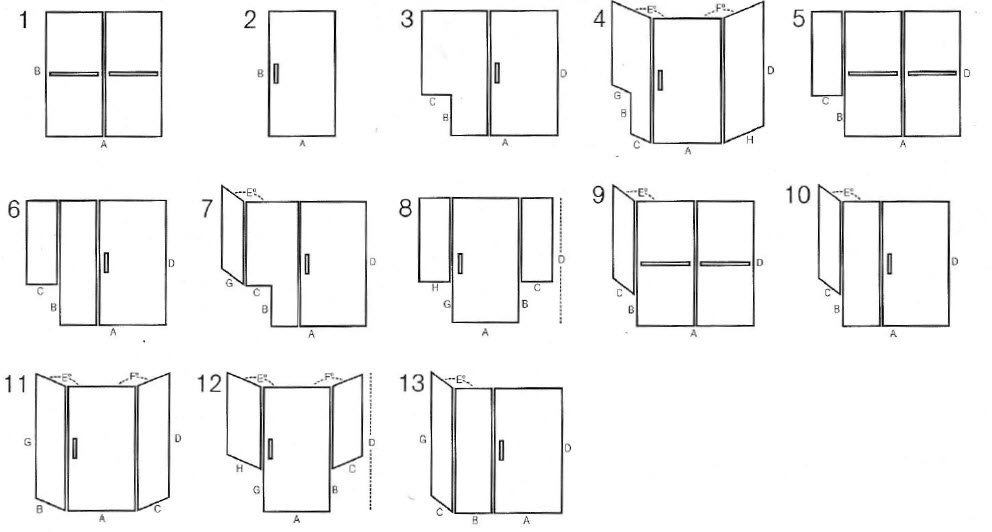 When you're thinking about going frameless, there so many options. Merrell Shower Doors can help your Custom Heavy Glass Shower Door match the beauty of your bathroom.