Merrell Shower Doors can handle the glass for your project, but we've also worked on enough bathrooms to give you some "pre-shower" advice. So, before your shower door, there are some key areas to consider.
Let's take a look …
Tile Work Complete?
---
Typically, our customers come to us after their bathrooms have been completely renovated or remodeled and all they need us from is the shower door. In order to obtain firm measurements on your shower door, the tile in your enclosure must be installed. With-out the tile installed, Merrell Shower Doors is put to a halt to even estimate your enclosure.
Considering Frameless?
---
If you're thinking about going frameless, prior to even the tile, wooden studs needs to be in place where the door will hinges to the wall. This is because the weight of the shower door is too much for typical drywall and needs a more secure base to attach to. Most contractors will know to install these studs, but be sure to mention your choice of going "Frameless" to ensure no issues.
---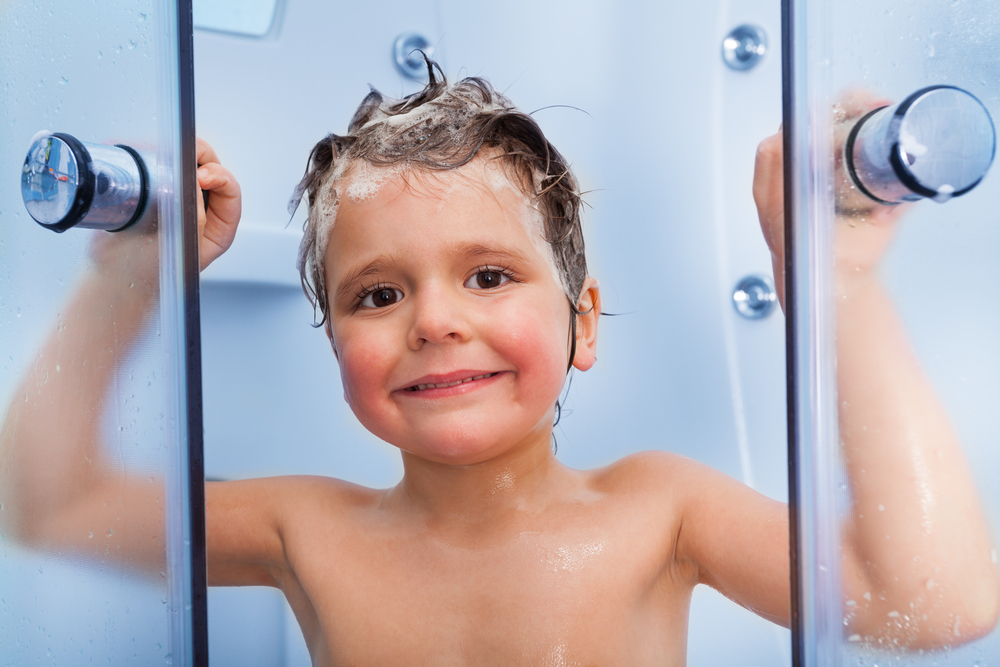 Before your shower door, consider if an option besides "Clear" is right for you.
At Merrell Shower Doors, we offer many choices when it comes to textured patterns. From Obscure to Rain, choose the pattern that you like best.
Patterned glass is perfect when you want to hide "the guts" of your shower. If however, you have beautiful new tile, obscured glass will prevent seeing through to the beauty of your new tile. On the other hand, if a patterned glass is what you're looking for, check out these options:
Aquatex – patterned glass that has a slight ripple throughout it
Glue Chip – fern like pattern resembling a window after being frosted
Obscure – made translucent or opaque by roughening one side
Rain – This glass appears as if rain is pouring down it
Reed – glass with parallel bands running vertically to diffuse light
---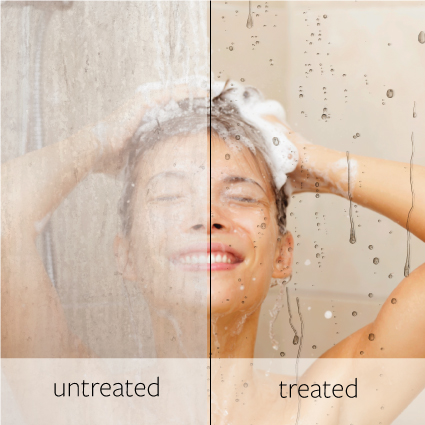 Before your shower door, consider an easy to clean option.
EnduroShield® glass treatment makes cleaning shower glass easy and repels soap scum, grime and dirt. EnduroShield® reduces your cleaning time by up to 90%.
Untreated glass is porous and as a result absorbs mineral deposits and soap scum, making it more and more difficult to clean overtime. Shower glass is subject to mineral deposits from water, shampoo, soaps, body fats, and harsh scrubbing using toxic cleaners, causing the glass to discolor and develop irremovable staining. EnduroShield® is an ultra-thin transparent glass coating that completely adheres to the surface and provides protection that will repel both water and oil based stains.
---
Before Your Shower Door, Consider:
Bathroom spaces are used daily therefore, when "done up" can be a great room to be in. Usually, one of the smaller rooms in your home, bathroom redecoration won't cause you to break the bank.
---
Themes – Deciding on a theme for your bathroom makes the process of remodeling your bathroom much less stressful.
Once you find a theme, you can base all the accessories on that theme. Currently, popular themes include beachy, rustic, and classy. Your theme should be one that inspires creativity and brings peace, relaxation, or pleasant memories to mind. Ultimately, it's your ideas expressed and should allow the rest of the process to flow.
Decor – It's is essential to make a good first impression.
Decor is essential, however, the bathroom can be one of the most challenging rooms to find the right decor.
Bathroom Layout, pre-designing will be your best-friend when it's time to tie it all together.
Make Room, it's also important to not add unneeded clutter.
Use Glass Elements, glass & mirror are perfect to help create an elegant statement. Additionally, glass and mirrors make your bathroom look and feel larger.
---
The definition of an accessory is, "a thing which can be added to something else in order to make it more useful, versatile, or attractive". So, the task of finding accessories shouldn't be too hard. Your bathroom is a room where only useful things should be held. The accessories you chose should compliment your theme and they should, more importantly, compliment your life-style.
---
Before your shower door, follow these 5 simple steps to guide you in the right direction of properly planning your bathroom remodel!
These steps produce cookie cutter work start to finish.

Design
Be You
Don't Clutter
Keep It Clean